Energy Leadership Index Assessment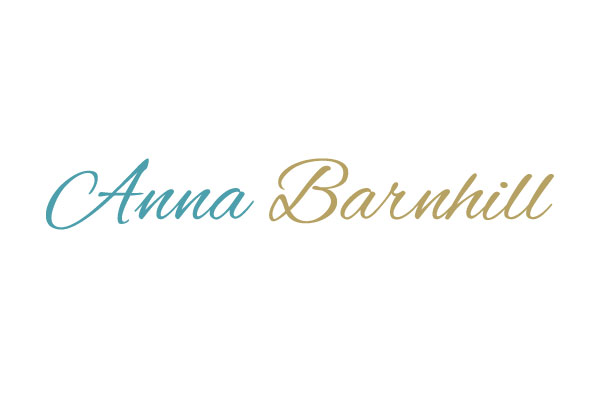 ELI is Powerful Research-Backed Assessment that can Help You Gain Clarity on What's Holding you Back from Being Happy, Achieving Greater Success at Work, and Having Satisfying Relationships.
ELI Assessment is Forbes top rated assessment that every executive should take. According to Harvard Business Review, while 95% of people think they are self-aware, only about 15% are. Assessments can give you a valuable insight into areas where you need to focus your attention to become more successful in leading your personal and professional relationships. You've probably taken personality tests, like Myers Briggs, DISC, and Enneagram, but this is different. And transformational. According to HBR, " this assessment provides a unique lens on self-awareness and emotional intelligence, two key ingredients for any leader". The Energy Leadership Index (ELI) is a one-of-a-kind assessment that enables you to hold up mirrors to your perceptions, attitudes, behaviors and overall abilities to lead yourself and others. The ELI forms the initial launching point for personal growth and leadership development journey, by providing you with a baseline for your current level of awareness, performance, and effectiveness.
How Energy Leadership Index Assessment can help You Transform Your Life?
The Energy Leadership Index (ELI) assessment takes something abstract, like the way a person views the world, and turns it into something tangible—a metric that you can see and feel and even reevaluate in the future. The ELI model describes the 7 Levels of Energy. All seven levels of energy are present in everyone in different combinations. Each of us has a unique combination of all seven levels of energy which, in turn, creates your typical viewpoints, perceptions, and beliefs about life.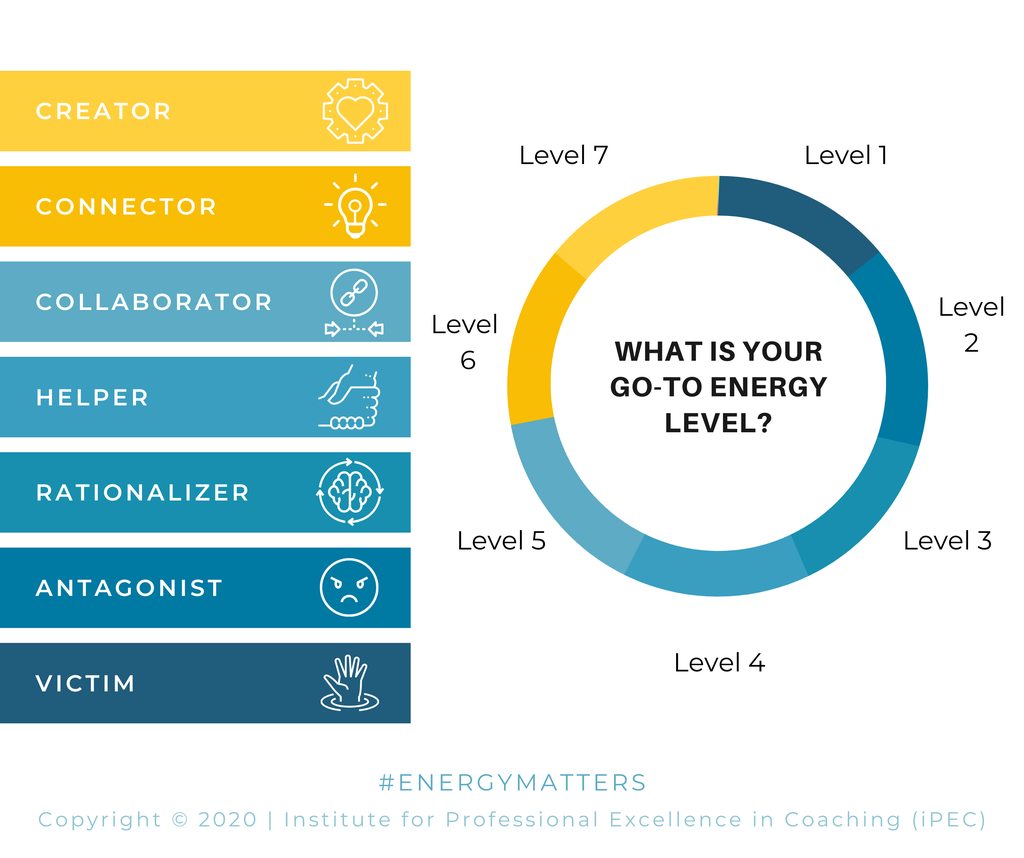 Energy is everything! It creates our viewpoints, perceptions, and beliefs about any and all aspects of life. Our worldview is the result of a combination of many different aspects: our past experiences, level of consciousness, perception of situations. As individuals, we view the world through a set of filters. If you're wearing blue-colored glasses, the world looks blue. If you're wearing green-colored glasses, the world looks green. We all have these filters, and they are based on all our life experiences and the influences of the people and world around us. They form the basis of our belief system and the way we view and approach situations. In many instances, our filters help achieve success. In other aspects, they can be limiting or create tension. These filters shape the way we "show up." They affect our reactions and responses to situations and people in all aspects of life. Though your past experiences, cultural and familial conditioning shaped who you are today. They don't have to predetermine who are you going to be going forward.
The Energy Leadership Index assessment reveals the specific filters you've developed and how they are influencing your life & relationships. It also uncovers the thinking and perceptions that might be creating stress or holding you back from achieving your goals.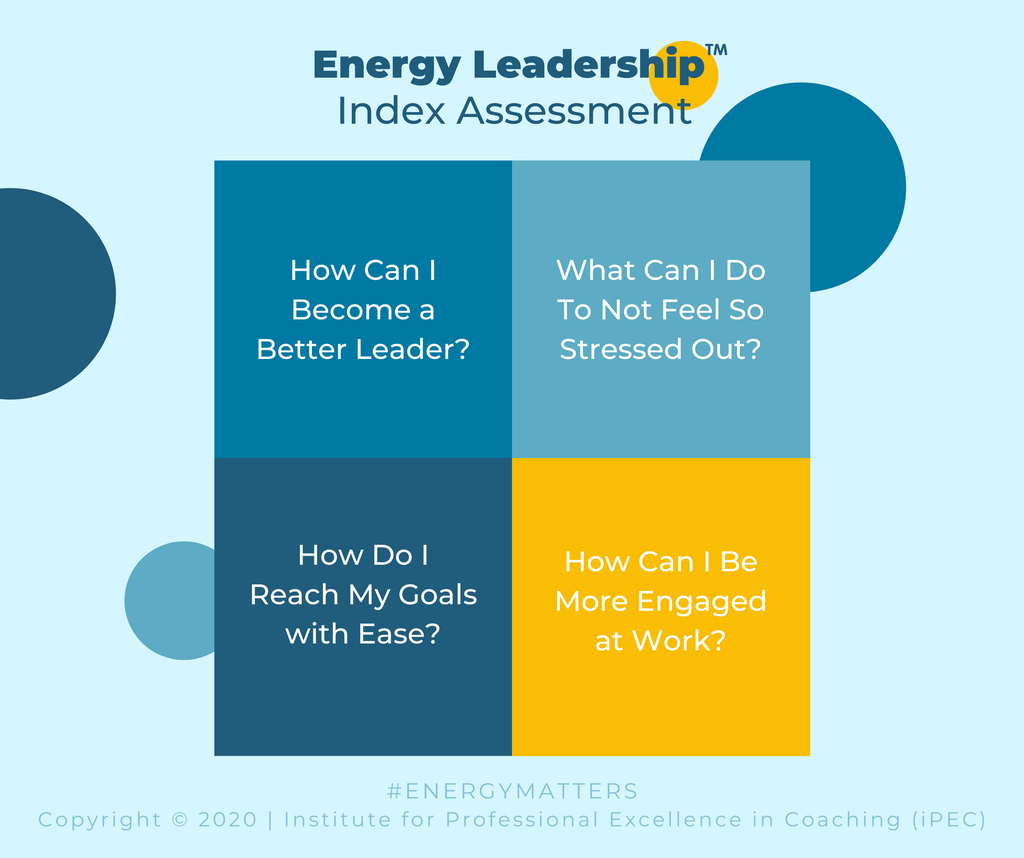 Whether you're seeking success in your career or personal life, the ELI checks all the boxes as it brings awareness to what's holding you back from creating the success you desire.
The ELI assessment will help you to identify:
how you are showing up in your career, and other aspects of your life—and why
how your thinking and/or your life situations might be creating stress OR success for you
what inner blocks are holding you back from thriving career and satisfying relationships
how you impact others and how they might see you
how you can be more effective in leading every area of your life
Using these ELI results as a benchmark, you can begin to consciously choose how you want to lead your life and career through changing perceptions and attitudes where they're not serving you. You have the power to choose the way you are going to live your life. And ELI Assessment and debrief give you the tools to go after the life and career you always wanted!
What's Included?
Energy Leadership Index (ELI) assessment
Customized report
Detailed debrief to gain self-awareness on what's holding you stuck
2 hours of 1-on-1 coaching
Customized roadmap to help you unlock your full potential
As a result of the ELI assessment and 2 hours of coaching, you will:
Gain a deeper understanding of yourself including your blind spots and conditioned behavioral patterns that are blocking you from success and satisfying relationships
Uncover how you react to stress and challenges, so you can develop a plan to become a BETTER leader, partner, parent, etc.
Gain an insight into how to become your authentic self as a leader at work and home.
Learn what's stressing you and how you can finally take that weight off your shoulders
Gain insight into better manage your emotions and increase your emotional intelligence so you can overcome challenges and seize opportunities
Learn how to start leading your personal and professional life from your core values so you can start living a life full of happiness, love, and prosperity.
The realizations that you'll gain from the Energy Leadership assessment and debrief process alone will change the way you view your world & experience life.
Are you ready to unlock your full potential and become the high-impact leader you were always meant to be?
Are you ready to have thriving relationship where you feel loved and supported by your partner?
Are you ready to feel happy and energized again?
If so, we are ready to partner with you and guide you to the next level of success in your career and romantic relationships. It's Time to go after the Life and Career you always wanted!